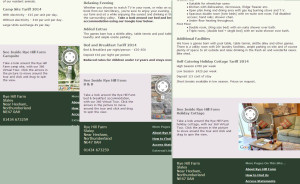 Google Street View Tours can be placed on web sites. Here's how we helped one business make the most of their Google tour by using a different view point on three web pages.
In March 2014 Elizabeth Courage launched her revamped Rye Hill Farm holiday accommodation web site which included a Google Street View 360 Tour. The holiday accommodation is made up of 3 distinct services: campsite; holiday cottage; bed & breakfast rooms. The tour covers and connects all three elements of the business. Each service has a dedicated web page and by placing a Google business tour with a relevant starting point on each page, we were able to direct specific information to visitors.
The campsite tour starts immediately outside the site gate so campers who're unfamiliar with the campsite can walk through the site and over to the shower and toilet facilities located off the farm courtyard. An unusual feature of this tour is that you can even walk back down the lane to the main road. Great if for instance you're pulling a caravan and you want to assess ease of access. You can clearly see the whole route from where Google Streetview stops on the public road, along the private lane to the farm and into the campsite itself. You can also see that Elizabeth's description of countryside views is not exaggerated. Visit the campsite web page
For her bed and breakfast business Elizabeth showcased the reception, dining room and a representative selection of bedrooms. Potential guests can walk past tables set for breakfast, step out onto the patio and view the gardens, and peep into bedrooms and bathrooms. Visit the bed and breakfast web page
The tour of the holiday cottage is particularly valuable for reinforcing accessibility claims for the accommodation. The walk-through covers a first floor bedroom and each ground floor room, including the twin bedroom with ensuite wet room. You can even leave the lounge and stand on the enclosed patio outside the French Windows! Again the tour is connected to the farm courtyard and lane so you can wander around if you wish. Visit the holiday cottage web page
Unlike still photography, the transparent approach of the Google Business View 360 tour helps Elizabeth to connect and build trust with potential customers. It presents opportunities for them to get to know and interact with more areas of her business – all of which can help secure a booking. However, not all areas of the farm are in the tour, and for the guests who stay at Rye Hill Farm there is still plenty in reserve to be explored.
Could a Google Street View tour help you secure more business? Call me on 0797 6622110.
To see more examples of tours click here.
Visit my home page and find out more about Google Street View | for business 360 degree tours.