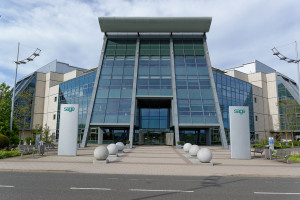 Producing a Google Business View 360 virtual tour for Sage (UK) Ltd has proved to be my biggest challenge to date.
Tori Newcombe, Digital Content Manager for Sage (UK) Ltd, spotted an opportunity to bag another 1st for one of the UK's leading businesses. This would be the first Google Business View tour of a FTSE 100 company. An exciting opportunity to open to the world, for the very first time, a FTSE 100 boardroom – and the executive "restrooms". Aspirational places, located – in this case -just below their glass ceiling.
Planning meetings were held so that Sage staff could get together to squeeze the most from the opportunity. As news of the tour spread, more Sage teams clamoured to be included and it grew and grew. The three days over which the photographs were taken were meticulously planned and organised. Security concerns were aired and addressed in a professional, co-operative manner. Many staff volunteered their weekend to make sure the tour would be a success. Nothing was left to chance except the weather.
On the day the weather was kind to us. The sun was shining. Fluffy white clouds sailed past overhead. You can stand in the atrium amongst the trees (yes real trees!) and look up through the amazing glass ceiling and see for yourself. The interior was painted with light and shadows bringing the remarkable Sage HQ to life. What a great place to work and an absolute pleasure to photograph – even though it did present a few challenges.
A particular challenge is how to include people in the tour because Google insists on blurring faces. Typically Sage saw this as an opportunity. Faced with the choice of showing an empty building, or people with blurred faces, staff opted to give up their weekend to come in and hold messages relevant to the area of the building they're in. Marketing messages abound, on walls, on screens – and on people. Watch for the messages as you move around the tour.
And in case taking a peek at the executive loos isn't temptation enough to tour Sage's HQ, they have hidden eight items around the offices and are running an online 'treasure hunt' until October 3rd 2014 that celebrates the best of the North. The prizes showcase Newcastle's fantastic hospitality and include a stay at The Grey Street Hotel Newcastle; dinner for two at SIX, Baltic's rooftop restaurant, and two tickets to a show of the winners' choice at The Sage Gateshead. Get your clues from http://www.sage.co.uk/press-room/google-business-view.html
As you would expect from a high calibre company, Sage (UK) Ltd invested a huge amount of effort into their Google Business View 360 virtual tour and in return are expecting it to help with recruitment, PR and brand awareness. Tori Newcombe explains "We're incredibly proud of our offices, facilities and North East heritage, so we wanted our Google Business View to offer a little insight into what life and culture is like at Sage, and I wanted do something a little different to make ours stand out from others. We're all absolutely delighted with the finished piece; it's even better than we imagined and it promises to be a powerful recruitment tool"
Never a business to stand still, Sage have now developed the tour even further, using Tourdash with advanced navigation and information hotspots at locations inside and outside the building.
Some Stats:
360 degree panos taken: 200
Photographs taken: 5000
Multi floor:5
Time taken: 3 days on site + 3 days processing time.
Number of people involved on the day: 62